Today I'm talking to Suzanne van Rooyen about The Writing Life.
Suzanne is a freelance writer and author from South Africa. She currently lives in Finland and finds the cold, dark forests nothing if not inspiring. Suzanne is the author of the cyberpunk novel Dragon's Teeth (Divertir), the YA science fiction novel Obscura Burning (Etopia) and has had several short stories published by Golden Visions Magazine, Space and Time and Niteblade. Her non-fiction articles on travel, music and other topics can be found scattered throughout the Internet. Although she has a Master's degree in music, Suzanne prefers conjuring strange worlds and creating quirky characters. When not writing you can find her teaching dance to ninth graders or playing in the snow with her shiba inu. Suzanne is represented by Jordy Albert of the Booker Albert Agency. Suzanne is also a publicist for Entranced Publishing.
Connect with Suzanne in the following places:
Website: http://suzannevanrooyen.com
Facebook: www.facebook.com/pages/Suzanne-van-Rooyen/304965232847874
Twitter: https://twitter.com/Suzanne_Writer or @Suzanne_Writer
Pinterest: http://pinterest.com/SuzanneAuthor
***
When you first begin writing a new book, is your main focus on the characters or the plot?
My primary focus is on concept. My stories often reveal themselves as setting first, then I start imagining the type of person who might live in that sort of world. Only once I have an idea of the main character/s does the plot start to come together.
Describe your writing environment.
I cannot write in silence. I need music. Music helps focus my creativity, helps immerse me in the world, scene or individual character. I try to create different playlists for each book, sometimes even individual characters. My desk is fairly cluttered. There are always post-its and scrap papers lying around for spur of the moment notes. My coffee mug is ever present and then there's my cellphone, a packet of biscuits and assorted pens all within easy reach.
What is the biggest challenge for you in writing from the opposite gender's POV?
I love reading and writing male POV. I've always related more to boys and have no problem writing their POV although I always get my fiance to give it a read through in case my character is suddenly too obsessive about the type of conditioner he uses or the state of his nails.
Do you outline first or take an idea and run blindly?
I'm a bit of a hybrid writer. I don't do complete outlines but I do tend to have a general idea of the seven story points from the inciting incident to the way the story should end. How I get from plot point to plot point, however, I only figure out as I write.
How do you decide on your book's title?
This is a tough for me because I tend to go for more poetic, symbolic titles, which aren't always the best for marketing purposes. Obscura Burning was originally As Dust or Breath. My editor helped me come up with a more attention grabbing, genre appropriate title. The right title usually just comes to me even if it is only during final edits with deadlines looming. I think I work best under pressure.
***
Here's a look at Suzanne's latest release: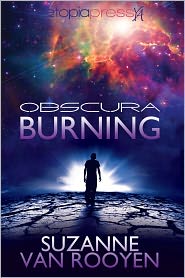 Upper YA LGBT science fiction The world's going to end in fire…and it's all Kyle's fault. Kyle Wolfe's world is about to crash and burn. Just weeks away from graduation, a fire kills Kyle's two best friends and leaves him permanently scarred. A fire that Kyle accidentally set the night he cheated on his boyfriend Danny with their female friend, Shira. That same day, a strange new planet, Obscura, appears in the sky. And suddenly Kyle's friends aren't all that dead anymore. Each time Kyle goes to sleep, he awakens to two different realities. In one, his boyfriend Danny is still alive, but Shira is dead. In the other, it's Shira who's alive…and now they're friends with benefits. Shifting between realities is slowly killing him, and he's not the only one dying. The world is dying with him. He's pretty sure Obscura has something to do with it, but with his parents' marriage imploding and realities shifting each time he closes his eyes, Kyle has problems enough without being the one in charge of saving the world…
***
Suzanne's books are available in print and Kindle format on Amazon and Amazon UK, print and Nook format on Barnes and Noble
and ebook format on Kobo
.
I hope you'll take the time to connect with Suzanne and explore her fictional world.
Thanks for reading.
Tags: Author Interview, Fiction Writing, indie authors, LGBT Fiction Authors, LGBT Science Fiction, Obscura Burning, Suzanne van Rooyen, The Writing Life, YA Fiction, YA Science Fiction